I met Sara while she was still pregnant, back in June for her in-person consultation. During that time, she expressed a bit about her pregnancy journey and how important it was to capture her precious daughter's first few weeks in the world. She said she didn't care for cute mom gifts or hospital care kits from her husband, instead she had requested that her daughter's session with me be her gift! I carefully went through the expectations of the session, how each step worked before, during and after the session, how to prepare for parent shots and at what point to contact me once the baby has arrived. We connected right away with our very similar sense of humours and taste in colour and props she wanted to incorporate into her daughter's session. She signed the contract, paid her booking fee and we had her booked in for August.
Baby Alyssa finally made her arrival and we planned out the session details as soon as mom was home and settled. Mom expressed that her c-section was a little troubling and had her experiencing some discomfort. Since I try to promote a stress-free process, especially within my newborn sessions, I was able to book parent shots in on a separate evening for an hour after Alyssa's original shoot. This allows for mom to have a few extra days to feel more like herself and be more confident in her session.
The morning of baby Alyssa's session it was like any other day for me. I set up the snack table for mom, set up my bean bag & pre-set up some props so I knew what my workflow would be for the day. Mom came in, accompanied by her friend since dad was working. Baby Alyssa was sound asleep in her car seat. I always ask parents to leave baby in the car seat for a few minutes to adjust to the new environment before we disrupt her slumber.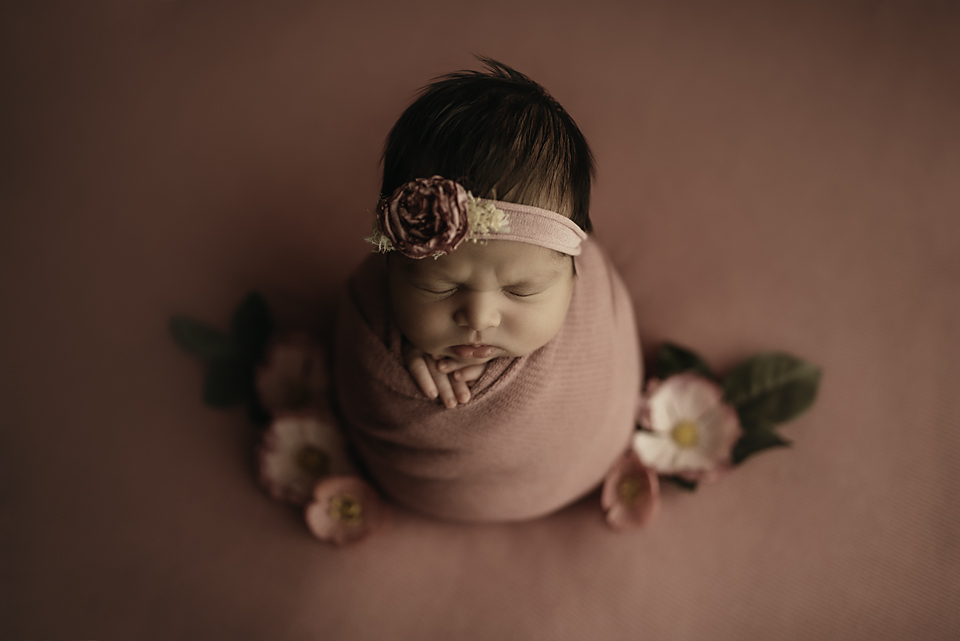 We decided to start the session with my usual "potato sack pose" on the dog bed with my favourite Hello Little Props posing blankets. From the beginning of the session until the very end she was a dream. She slept throughout all of her set-ups and only needed to be topped up a few times with food. We were able to do a variety of posed shots on the dog bed, baskets/buckets & on our mother bean. One of my new favourite shots I do are baby headshots. These are a great way for the baby's personality to be captured and since mom expressed during her consultation that she wanted to see her face well in her images, I made sure to grab these precious shots of her!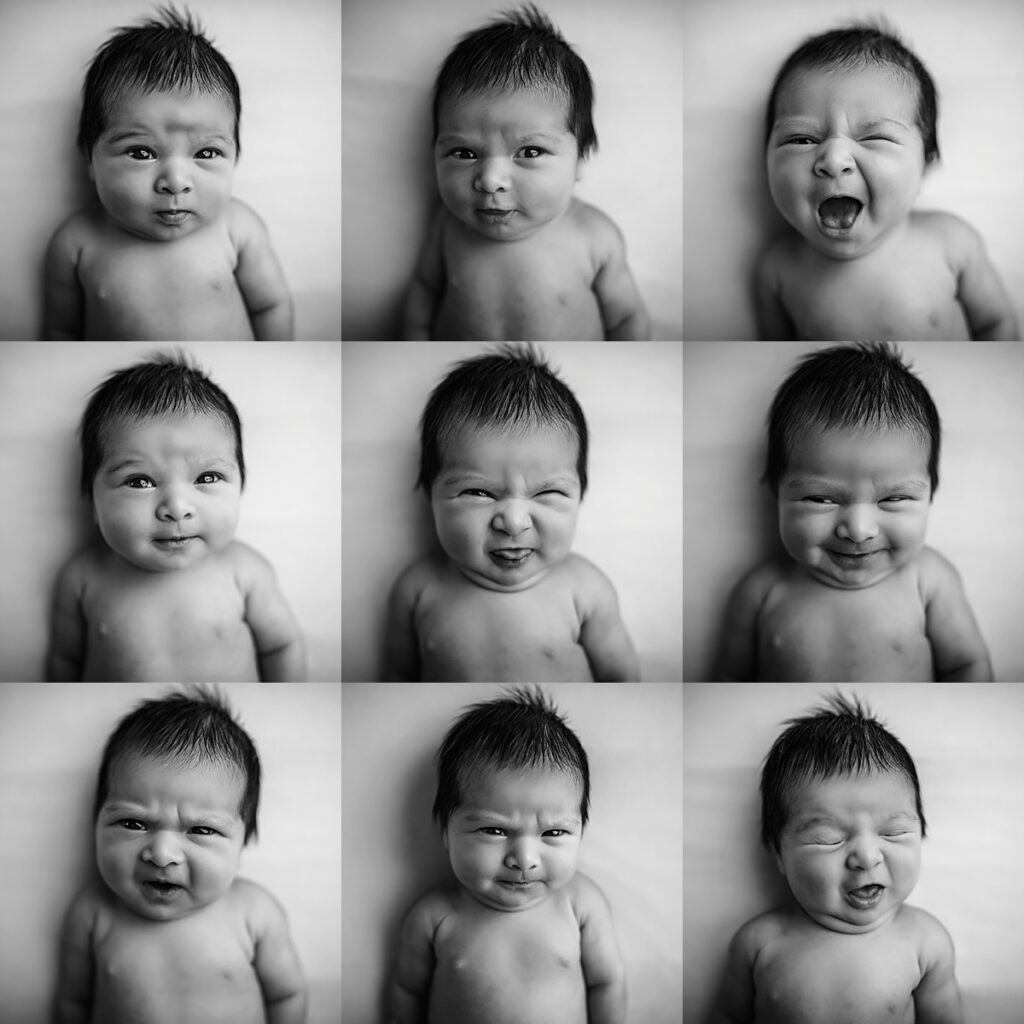 I always guarantee my clients 3-4 set-ups depending on how the baby cooperates; however Alyssa was such a great baby I was able to do more than enough. We could have easily finished the session within 2.5 hours, but when I have a baby that works so well, it's easy for me to get carried away and want to try all of my other fun, creative shots that I don't always get the opportunity to do.
Sunday of the same week, mom and dad brought Alyssa back to the studio to complete their family shots. Again, since I like to provide a stress-free/worry-free process for my new moms, I had my makeup artist Angela booked for the session to complete mom's makeup. I started with "bum up" pose with the baby by herself. I completely forgot mom had specifically requested this, so fit it in while her makeup was being completed. Alyssa was a bit fussier during this process, which can be normal since it was about 5 days later and she was becoming more and more aware of the world and her preferences (lol). Nonetheless, she mastered the pose and we were able to quickly move onto shots with her and her dad. Daddy and baby shots always have a special place in my heart. They are always so sweet and dad's always melt while holding their daughters. Once makeup was ready, we got mom in with the famjam and created some absolutely breathtaking shots for them to cherish for a lifetime. I always try my best not to show my clients too many photos on the back of the camera throughout the process, as it takes away the suspense from their actual reveal date, but I just couldn't help myself and showed mom a few of the family shots. Her "oohs" and "awes" were reassuring enough that I did a great job.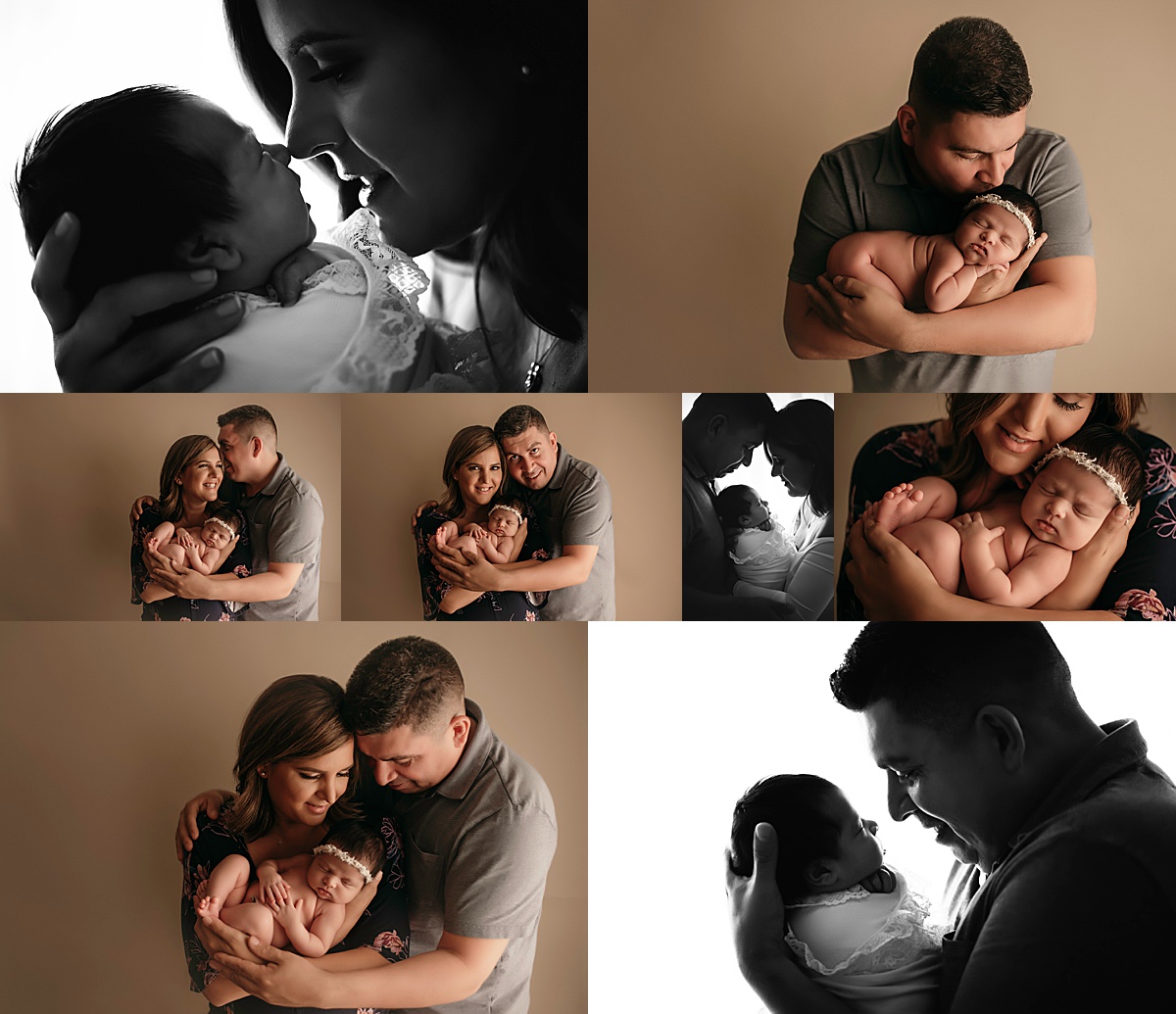 After we finished up with their shots, Alyssa's shoot was fully completed. Mom and dad thanked me for my time and I let them know that we'd set a date shortly for their reveal session!
Stay tuned, for "Baby Alyssa, Pt.2" blog on how their reveal session went and what they purchased!